Welcome to the
Dota LoD 6.85o1 Download
!
Dracol1ch updated the new
Legends of Dota
version with a lot of great changes:
In Dota 6.85o1 LoD the Christmas stuff has been removed and there is a long list of optmized spells, ultimate spells, global ultimate spells as well as bug fixes! dia
Dracol1ch gives us what we need to play a stable Legends of Dota Map that makes fun and is less and less abusive or unbalaneced. This gives a greater gameplay playing RGC LoD games! bling
Info: To play Dota LoD 6.85o1 you need the Warcraft 3 Patch version 1.26 (It does not work with 1.24, 1.27, 1.28 or 1.29). Get all Warcraft 3 Patches here.
Dota LoD 6.85o1 Map Download:
Dota LoD Version:
Release Date:
File Size:
Download:
Dota LoD 6.85o1

New

02.05.2018
9.5 MB
Download
Here you can get the
Legends of Dota 6.85o1 Download
. crown
Dota LoD 6.85o1 Changelog:
General Changes in Dota LoD 6.85o1: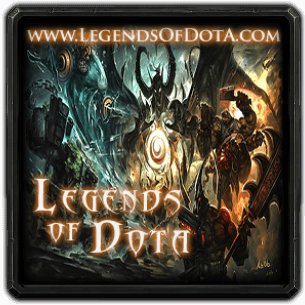 In Legends of Dota 6.85o1 the game mode "Fast Neutrals" / "-fn" is now removed.
Xmas Edition & Santa has been removed.
Added many new fun names for heroes.
Skills will now always have static positions.
Removed -ul (unlimited levels) from all removed hcl modes.
In Dota LoD 6.85o1 all abilities got their own casttime.
Default mode is now "-sds6ff" instead of "-sd3lszmeb".
Added HCL mode "mdls" = "-mds6ff3ls".
"Suspicious click on Rune" text removed.
All devoured skills have 4 levels, hero gets skill based on devour level on eating moment.
Grey wolf and Little Mud Golem doesn't switch hero abilities when eaten.
Synergy now works on Nether Ward, giving it 1/2/3/4 bonus hp, based on Synergy level.
Synergy now works on Frozen Sigil: Adds Truesight ability to the Sigil with 100/150/200/250 AoE.
Thunder Strike now reveals you if you're invisible and affected by it.
Added 100 bonus AS to Roshan.
Rearm can no longer be picked with Spirit Bear.
Other Changes in Dota LoD 6.85o1:
In Legends of Dota 6.85o1 the

gold and experience flow

has been adjusted for several abusive spells.
22 Bug Fixes.
51 Hero balance changes.
92 Hero Ability spell changes.
23 Hero Ultimate spell changes.
10 Hero Global Ultimate spells.
6 Skill Panel changes.
Various tool tip improvements.