Welcome anime players! <3 Here is the Fight of Anime (FOA) Map Download page!
FOA S2 Return Last Fix:
What is FOA?
Fight of Anime (FOA)
is a great
Warcraft 3 funmap
. The playstyle is the moba style (multiplayer online battle arena) like
Dota
or League of Legends.
There are 3 lanes and two teams that fight against each other – just with cool anime heroes!!!
The anime hero models in FOA S2 Return are made so beautiful and the spells have extreme special effects!!! x3
Look at the GIF that I made! 😀
| | |
| --- | --- |
| Map Name: | FOA S2 Return Last Fix |
| Filename: | FOA S2 Return Last Fix1.w3x |
| Language: | English |
| Release Date: | 31.01.2018 |
| Map Size: | 7.9 MB |
| Downloads: | 147,920 |
Fight of Anime S2 Map Download:
As you can see the full name of the map is FOA S2 Return Last Fix. This comes along with really bad news, because this is the last update for Fight of Anime.
What we get is 3 completely new heroes and nice balancing fixes!
I really love this version (recommended!)
Thanks to all of the creators of the last years, like Oliverskys, _Lucifer and many more. Fight of Anime is complete now – let's have fun playing! 😀
Here is the Fight of Anime (FOA) S2 Return Map Download:
Download
Fight of Anime Map Animation:
I played the anime hero Kuroyukihime and made a cool preview for you: bling

FOA S2 Return Last Fix Changelog:
These are the new updates in the Version
Fight of Anime Season 2 Return
(Last Fix):
FOA S2 Hero changes:
New Hero

: Shiki Nanaya

New Hero

: Shiki Tohno

New Hero

: Kuroyukihime

Hero deleted

: Sistine Fibel
Abilities & other changes:

| | |
| --- | --- |
| Kuroyukihime | Skill W fixed |
| Nanaya Shiki | Fixed Damage |
| Tohno Shiki | Fixed Damage |
| Kurogane ikki | Skill Q fixed |
| Bugs | Fixed |
FOA S2 Warcraft 3 Map Installation:
To play Fight of Anime download the map and copy it into your correct Warcraft 3 folder:

Screenshots of Fight of Anime Season 2 Return Last Fix:
At first you can select one of the cool anime heroes: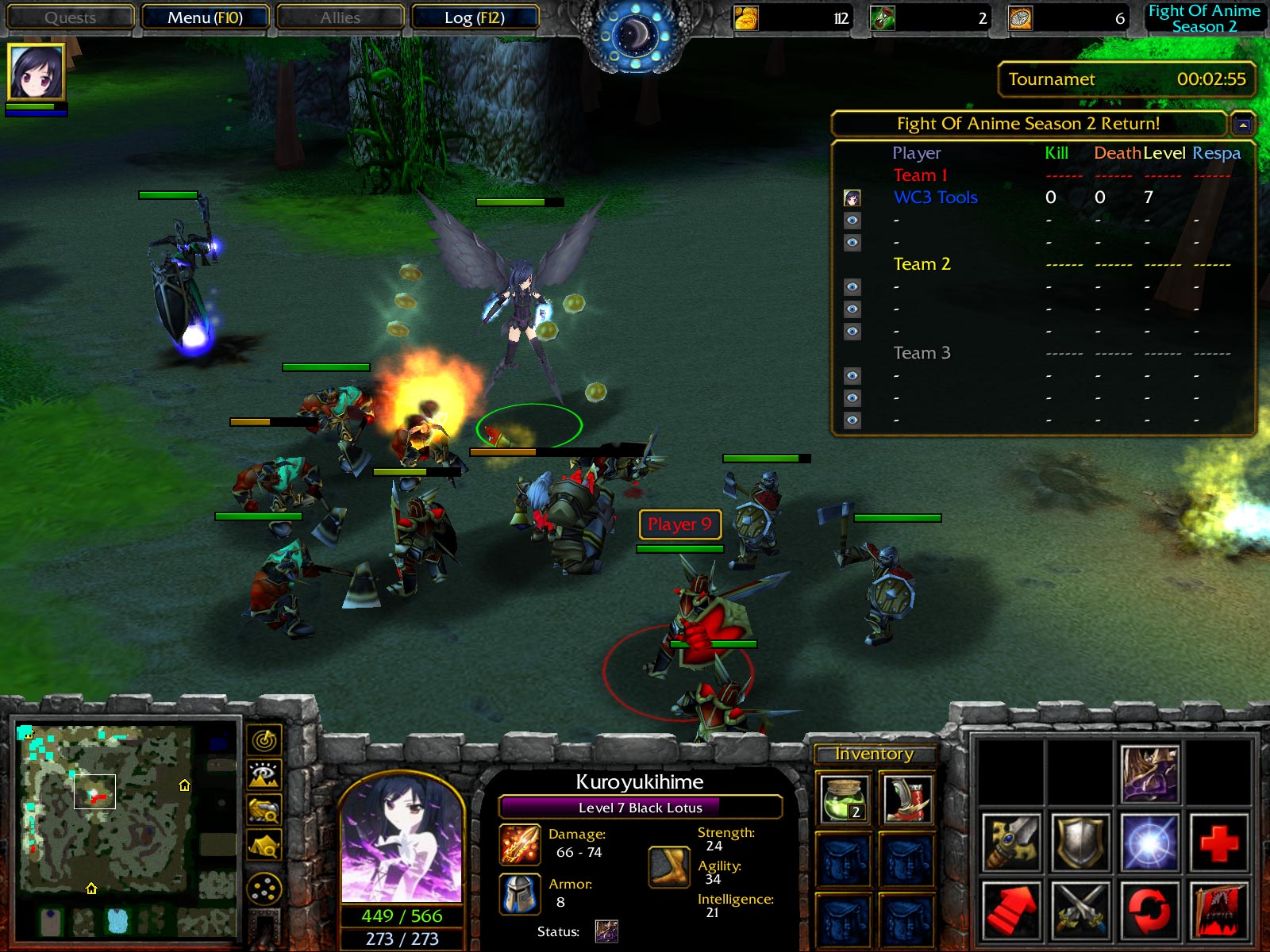 How do you like the map? ^^)
Find more Warcraft 3 anime maps here. xcool