Hey Dota players, here is the Dota 6.88v9 RGC Download Page. 8)
How is your day guys, I had an Ultra-Kill today! 😀 What I love about Dota 1? One the best things are definitely the impressive kill sounds. x3 xD
Well,
what is new in Dota 6.88v9 RGC
?
The
Warcraft 3 map developer DracoL1ch
is creating a lot of stuff at the moment, and RGC is getting great map improvements!
In Dota 6.88v9 RGC the big changes are the item and hero balancing and the bug fixing issues for a fluent Dota gameplay. Read on…
| | |
| --- | --- |
| DotA Version: | Dota 6.88v9 RGC (Beta) |
| Filename: | DotA Allstars 6.88v9.w3x |
| Language: | English |
| Release Date: | 31.03.2018 |
| Map Size: | 20MB |
| Downloads: | 10K+ |
Download Dota 6.88v9 RGC here: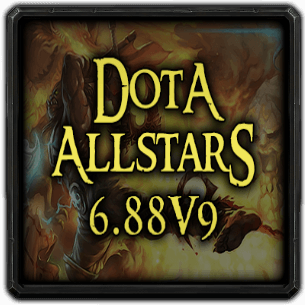 Always check which RGC map is played in your RGC channel. It depends sometimes on the channel and your country.
You can find all Dota RGC maps here. bizeps
Let's play some great games now – enjoy the new Dota features and map improvements! 8)
Below is an extensive Changelog for Dota 6.88v9 RGC.
Here is the Dota 6.88v9 RGC Download:
Download
DotA RGC 6.88v9 Changelog
The full
Dota 6.88v9 RGC Changelog
:
The Dota -mute function with chat aliases no longer affects yourself.
The tower collision size has been changed.
The chicken/animal courier is no longer auto-selected on game start.
The possible Refresher-Orb abuse has been fixed.
Fixed Sprout doesn't remove Linken's Sphere.
Fixed visual hero highlightning issues.
Fixed a bug with the item Armlet, when it is sticky.
Invokers invoked spells description now specify the spell data.
Fixed missing primary damage from Hellfire Blast.
Fixed dummy unit appearing in the middle of the map when the Dota spell Warpath was learned.
Fixed Winters Curse not blocking the damage abuse.
Templar Assassins Trap blast icon moved to right to prevent overriding charges indicator.
Fixed Meld attacks doesn't trigger Psi Blade sometimes.
Illusion from Spirit Lance now adds to SelectAllUnits groups.
Fixed abuse with the spell Meld.
Selecting all units now prefers main Meepo instead of his clones being selected as first.
DotA 6.88v9 RGC Screenshots
Here is how you have to download and install the Dota Map 6.88v9 RGC:
Another Dota 6.88v9 Loading Image Screenshot:

Yoyoyoyo time to play Dota my friends! 😀 😀 😀
Have fun, get some Ultra-Kills!!! 😉