This version Dota 6.88v3 RGC is the newest map for the Ranked Gaming Client platform. Dota 6.88v3 RGC is the stable map, which is actually played at the moment.
Dota 6.88v3 RGC is nearly similar to the official Dota version, but contains extra improvements based on dota 2 mechanics:
Some features here are the hero balances, the new terrain, new items and game mechanics, but also some minor bug fixes and ward stacks. Like this the evolution of Dota 1 and Dota 2 is more consistent. It belongs together in some way, for us the most important changes are the new great items!
[su_table]
| | |
| --- | --- |
| DotA Version: | DotA 6.88v 3 RGC |
| Filename: | DotA Allstars 6.88v3.w3x |
| Language: | English |
| Release Date: | 29.12.2017 |
| Map Size: | 34.2 MB |
| Downloads: | 648,744 |
[/su_table]
Download DotA 6.88v3 RGC
The Dota version 6.88v3 RGC is the latest state of the art, download & play it.
It is important for Dota that it gets new updates to be playable and competitive!
The new Dota items are for example the Tome of Knowledge, the Echo Sabre, the Aether Lens or the Bloodthorn. Test them out!
Download DotA 6.88v3 RGC here: Download
What is RGC? And which DotA map is played?
RGC stands for Ranked Gaming Client and is a gaming platform where you can play high quality Dota games! You have your own profile, friends and messaging system. RGC offers Host Bots, a reconnection tool, nearly no leavers and a ladder! RGC is a really nice community for Dota.
Which Dota maps are playable on RGC?
[su_table]
| | |
| --- | --- |
| 10.03.2018 | DotA 6.88v5 Beta has been released. |
| 29.12.2017 | DotA 6.88v3 has been released, and now playable on RGC. |
| 09.10.2017 | DotA 6.88u4 has been released, and now playable on RGC. |
| 16.09.2017 | DotA 6.85K is back to RGC. |
| 26.08.2017 | DotA 6.88T4 has been released, and now playable on RGC. |
| 20.08.2017 | DotA 6.88T is playable on RGC. |
[/su_table]
DotA 6.88v3 Changelog
These are the changes of version v3 of Dota 6.88 RGC: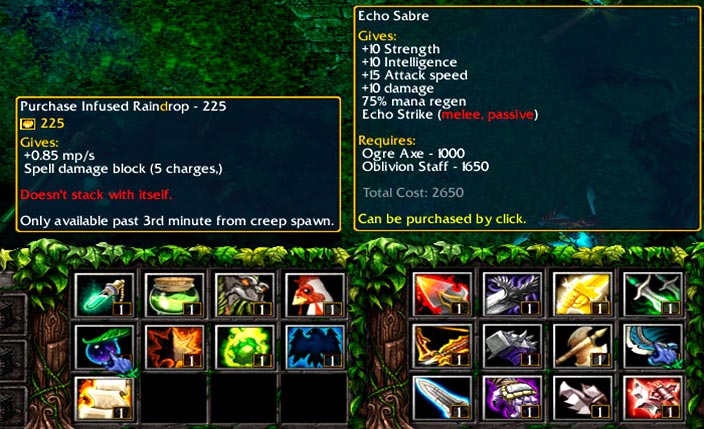 Improved stability and lags in the early game
Improved lane creeps aggro mechanics!
Fixed crash (related to Linkens Sphere block usage from v1/v2)
Fixed an issue with Dota ward stacking.
Added new style of minimap coloring
Fixed incorrect selling cost of some items: Ring of Regeneration, Headdress of Rejuvenation, Hood of Defiance, Force Staff, Hurricane Pike, Guardian Greaves
Fixed Enchant Totem always being level 1!
Fixed Requiem of Souls ignoring neutrals
Fixed Borrowed Time (it had zero cooldown)
Added Aghanim for Magnus from 7.00 series (Reverse Shockwave) instead of 88f Aghanim (AoE empower effect)
Added Aghanim for Bloodseeker (grants 2 charges of Rupture, 40 second cooldown each)
Fixed The Swarm beetles could be controlled
The Swarm no longer dispels from Leap or Borrowed Time
Fixed Splinter Blast being reflected twice on Lotus Orb
Fixed reflected Splinter Blast missing proper damage amount
Fixed Invokers Ice Wall counting Wex level instead of Quas
Fixed Tempest Double clone always become selected when he dies
Fixed Tempest Double could benefit of enemy's Rapier
Fixed Vengeful Spirit could Aghanim's Spirit could benefit of Rapier or Gem
Improved Kelen's Dagger tooltip!
New visual effects for Black Hole damage, Bloodlust, Repel, Xin's abilities!
Requirements and Installation of DotA 6.88v3 RGC
Requirements to play DotA 6.88v3 RGC:
Warcraft 3 The Frozen Throne version 1.26a, 1.27a or 1.27b.


Based on your RGC channel, the different regions and countries have different versions.

To play Dota 6.88v3 RGC on LAN games you need a different patch, read on.
DotA 6.88v3 RGC Installation:
Download Dota 6.88v3 RGC to your computer.
Copy the file 'DotA Allstars 6.88v3.w3x' to the correct path:
For Wc3 Patch 1.26a, 1.27a, 1.27b or older: Put it into this path: 'c:\Program Files (x86)\Warcraft III\Maps\Download\DotA Allstars 6.88v3.w3x'
For Wc3 Patch 1.28a or newer put it into this path: 'user/documents/wacraft-iii/maps/downloads' (like on the image).'

DotA 6.88v3 RGC known Errors & Bugs:
Bug 1: "The map file is too big. Please choose a different map."


Problem: Dota maps higher than 6.88 do not work on LAN with Wc3 Patch version 1.27, 1.26a or older. Reason: The maximum map size is 8mb but Dota 6.88v3 RGC is bigger.
Solution: You need to use the game.dll file of your Wc3 1.26a Patch. Backup your actual game.dll first (put it somewhere). Now Download the Wc3 1.26 game.dll and copy it into your wc3 folder.

Bug 2: Warcraft 3 crashes or shows an error message when loading a LAN game with Wc3 Patch 1.27b.


Problem: This map is especially for the RGC (Ranked Gaming Client).
Solution 1: So if you want to play Dota 6.88v3 RGC on another platform or on LAN download and play any other Dota Map that is stable for LAN: DotA v6.85k Allstars.w3x
Solution 2: Use the game.dll file from the Wc3 1.26 Patch.

Important: All players have to use the same game.dll file to play on LAN. Make sure all players have the same Wc3 version.

With the Warcraft 3 version switcher you can change the Patch version easily.
Important: Use the old Warcraft 3 game.dll files only for offline LAN games and not for the Battle.net games, otherwise you could be banned when it is identified as a Warcraft 3 hack or cheat.
Info: The Warcraft 3 bypass map file size limit patch, will not work with this map. It will crash Warcraft 3. So just delete it if you have them (forcefixsizelimit.mix & GameDll_fix_mapsize_limit.mix)
If you have any questions, make a comment below.
Customkeys for DotA 6.88v3 RGC
For Dota 6.88v3 RGC you need new customkeys, because of the changes like the new items.
Download RGC Customkeys.txt:
DotA 6.88v3 RGC Screenshots & Gameplay Video
The game in action:

Dota Arcane Rune:

Dota 6.88 Wallpaper:

Dota v6.88v3 RGC Wallpaper of the Loading Screen:

Have fun playing!