The Tool Warcraft 3 Styler is a cool program to customize your Warcraft 3 Game!
Warcraft 3 Styler Download
Get your
Warcraft 3 Styler Download
here:
Download
Downloads:
50K+
Download-Size:
11MB
Warcraft 3 Styler Features
With the Warcraft 3 Styler you can easily change Warcraft 3:
You can Change the Warcraft 3 Menu Background
You can change the Warcraft 3 Ingame Interface
Change the Warcraft 3 Music with any MP3 Files
Warcraft 3 Styler Installation
The Warcraft 3 Styler is very easy to use and needs no Installation.
Before starting the 5 Steps close Warcraft 3.
2. Unzip the File it and Run the Wc3styler.exe
3. Select the Background you wish or upload your own (they must be in the Size 1024×768)
4. Click on "To all Races" or choose a specific Race
5. Start Warcraft 3 and test the Changes 😎
Preview of the Tabs of the Warcraft 3 Styler: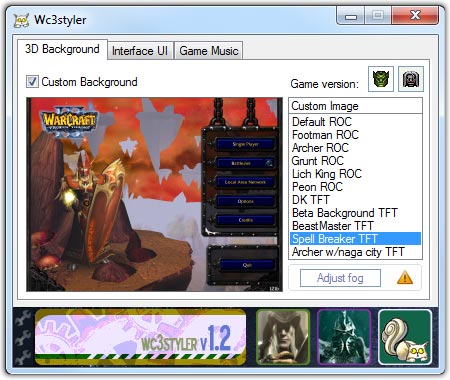 Megan Fox as Wc3 Background? No Problem 😀 What do you use as Background Image?
Need Cool Warcraft 3 Backgrounds? Visit the Warcraft 3 Wallpaper section.