With the Warcraft 3 Dota Theme Manager you can do two things, you can change the Warcraft 3 Game Interface and replace the Dota Map Textures with cool various themes.
Dota Theme Manager Download
The Dota Theme Manager works nice and fast. The Themes are of a high quality and nice to look at. 😀 I always use the Beach theme with Panda UI. 8) It is awesome!!! 😀
I never had any errors with the Dota Theme Manager Download, in the following I made a list how to install it. If you got any questions make a comment below!
DownloadDownloads: 150k+ Download-Size: 13MB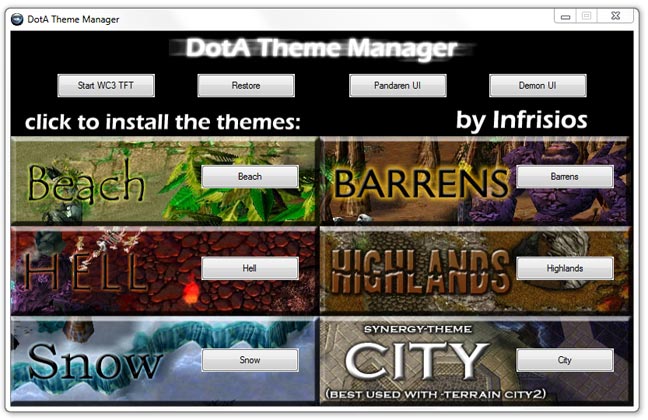 Dota Theme Manager Installation
1. Download the Dota Theme Manager
2. Unzip it in your Warcraft 3 Folder, the folder must be /Warcraft-3/DTMV4/ dont rename it or put it somewhere else or it will not work.
3. Launch the Dota Theme Manager (Important: Launch it with right click "AS ADMINISTRATOR) or there might be an error.
4. Make sure Warcraft 3 is closed, and click on the Warcraft 3 UI or Dota Theme that you would like to have. 😎
5. Now start Warcraft 3 play and Enjoy! 😉
Warcraft 3 Mod: Panda Theme
This is the Game Interface Panda Theme I like it a lot 😀 , I made a screenshot in game:
Warcraft 3 Demon Theme
This is the Demon UI, also cool 😎 :
Which Theme u like most?
I like Beach and Highlands, the others are too dark for me. 😀