Whiplash
800 V-Bucks

Uncommon

"Brake for no one." Whiplash is an uncommon female Fortnite Skin.

Get the Whiplash Outfit for 800 V-Bucks.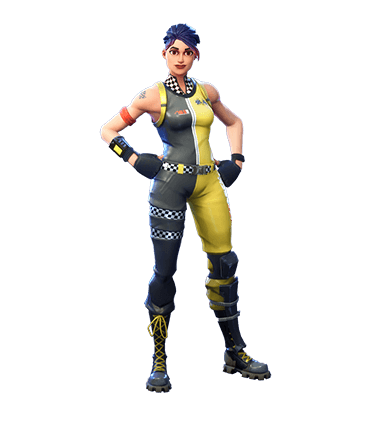 Quick Links:
More Fortnite Skins:
Fortnite Skin Whiplash
Crash Test Dummy

This Outfit looks like a real female racing crash test dummy with hero yellow taxi skirt! 😀

Season 3

The Fortnite Battle Royale Skin Whiplash has been released in Season 3.
Whiplash Set
Whiplash is part of the Racer Royale Set which contains three cosmetic items. It includes the Checker Glider and the Victory Lap Pickaxe.
Whiplash Outfit Design
The Fortnite Skin Whiplash is a female racing girl! She has a yellow black Outfit and looks like a crash test dummy! 😀 The black and white checkered decals make it look like a cool racing Outfit.
Whiplash PNGs and Icons
Get Whiplash PNGs:

Gallery and Wallpaper
Gameplay Video
View all Fortnite Skins