Dynamo
1200 V-Bucks

Rare

"Rule the ring." Female Lucha Libre Wrestler.

Get this Skin for 1200 V-Bucks in the Item Shop.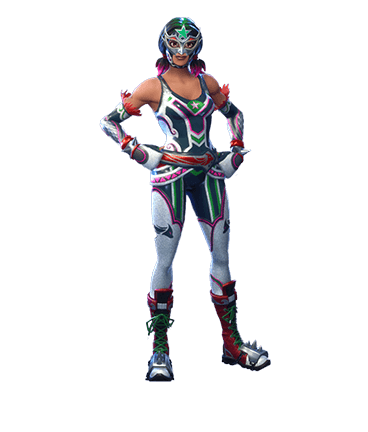 Quick Links:
More Fortnite Skins:
Fortnite Skin Dynamo
Dynamo is a female rare Fortnite Battle Royale Skin. She looks like a Lucha Libre Wrestler, that is also known as Luchador, a mexican wrestler. The Dynamo Skin joined Fortnite in Season 5 and she is wearing a full body wrestling suit, with green black and white colors. On her mask is a green star.
Dynamo Set
The Fortnite Outfit Dynamo is part of the Lucha Set, which also contains the Masked Fury Skin, the Piledriver Pickaxe and the Libre Glider.
Dynamo Outfit PNGs and Icons
Dynamo Skin PNG Download:

Gallery and Wallpaper
Gameplay Video
View all Fortnite Skins