P.A.N.D.A. Team Leader
2000 V-Bucks

Legendary

"Victory now. Nap later." This supercool Panda Outfit called Panda Team Leader is legendary and a highly requested Shop Item in Fortnite.

To get the Panda Team Leader Outfit buy it for 2000 V-Bucks in the random Shop rotation, normally shown in the featured section.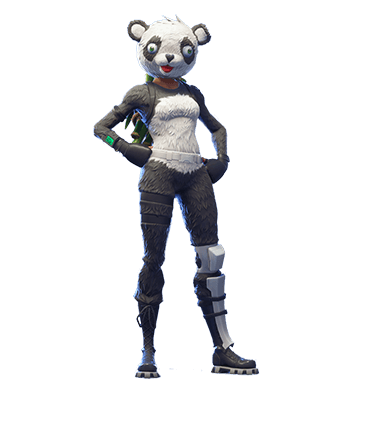 Quick Links:
More Fortnite Skins:
Fortnite Skin Panda Team Leader
Panda Time

The female legendary Panda Team Leader Skin for 2000 V-Bucks is just looking awesome. This animal is running through the world and it looks so funny! Everyone loves Pandas! 😀 Do you?

Season 5

The Panda Team Leader Fortnite Skin joined the Battle in Season 5.
Set
This Skin has no set, but everyone who buys it also gets the legendary back bling Bamboo!
Panda Team Leader Design
Did you see it? The nose is shaped as a heart!
The panda is a mask, you can see the human neck.
It has the same style like the other Team Leader Outfits, like the Cuddle Team Leader Skin.
Panda Team Leader Outfit PNGs and Icons
Download high quality Icons and PNG files of the Panda Team Leader Outfit here:

Gallery and Wallpaper
Gameplay Video
View all Fortnite Skins