Crackshot
2000 V-Bucks

Legendary

"Get out there and… crack some nuts" Supercool Nutcracker Outfit for Fortnite Battle Royale.

Get this Skin for Fortnite in the Cash Item Shop rotation for 2000 V-Bucks.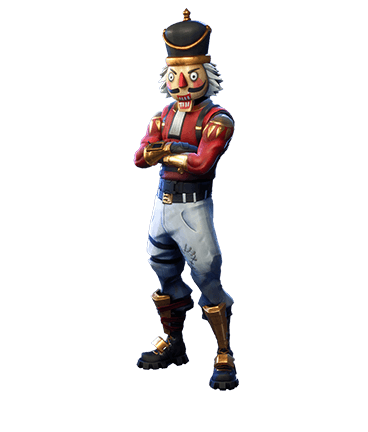 Quick Links:
More Fortnite Skins:
Fortnite Skin Crackshot
The Fortnite Skin Crackshot is really special: The Nutcracker Outfit is a legendary costume for 2000 V-Bucks!
Crackshot Set
The Fortnite Skin Crackshot is not part of any Set.
Crackshot Outfit Design
The Fortnite Outfit Crackshot is wearing a red jacket and white pants. His head is a nut cracker like a wooden toy soldier! The Crackshot is visually bigger than other Fortnite Skins, but it is important to know that the black and golden-crown has no hitbox that you can aim at.
Crackshot PNGs and Icons
Fortnite Crackshot PNG Download:

Gallery and Wallpaper
Gameplay Video
View all Fortnite Skins