Welcome to the Fortnite Nintendo Switch download & installation guide page! Yes you hear right, Fortnite Battle Royale is fully playable on the Nintendo Switch and even allows crossplay, read here how to get the game and basic tips to have a good start! Let's go!
Official Nintendo Switch Fortnite Trailer:

1. How much does Fortnite for Nintendo Switch Cost?
Fortnite for Nintendo switch is free to play
! It is
not a pay-to-win game
, but it just allows to
play the mode Battle Royale for free
.
If you want to get Save the World, the Fortnite PVE & co-op PVE mode you have to buy it and also the ingame cosmetics can be bought in the
Fortnite Item Shop
. If you pay nothing you will not have a disadvantage, another good option is to buy a
Nintendo Switch starter bundle
which you can find below.
2. How big is Fortnite for Nintendo Switch?
Fortnite for Nintendo Switch has a size of 3GB but it can increase with the incoming patch notes for Fortnite.
3. Fortnite Nintendo Switch Download and Installation Guide:

Step 1

Sign up for an Epic Games account. Use the Nintendo Switch Login to register fast and connect it perfectly to your Nintendo Switch Account.

Step 2

Download Fortnite for Nintendo Switch: Just go to the Nintendo Switch eShop and search for Fortnite. Click onto the game, which is playable for free and install it directly.

Step 3

If you have downloaded Fortnite successfully to your Nintendo Switch, login and start the game!

Step 4

Before you play visit the Fortnite game settings and check the keys for building and shooting!

Step 5

Now you can choose the game mode Fortnite Battle Royale and start your first combat.
4. How to get free V-Bucks on the Nintendo Switch?
If you have played Fortnite on another device before and bought the Save the World PVE mode, you can link the account and you will get free V-Bucks for your Nintendo Switch account.
5. Fortnite Nintendo Bundles
The cool thing about Fortnite and the Nintendo Switch is that there are often
custom bundles like the "Deep Freeze Bundle"
which costs vcoin
1000 V-Bucks
, but contains a lot of stuff:
Fornite the game itself, the Frostbite Outfit plus Backpack, Pickaxe, Frontglider and another vcoin 1000 V-Bucks to spend on more stuff!
To buy such a Bundle visit the Nintendo eShop!
6. Fortnite Nintendo Switch Controls & Hotkeys
Fortnite Nintendo Switch Controller and Hotkey Guide. Here are 2 version of nice Nintendo Switch key controls:
The Builder Pro: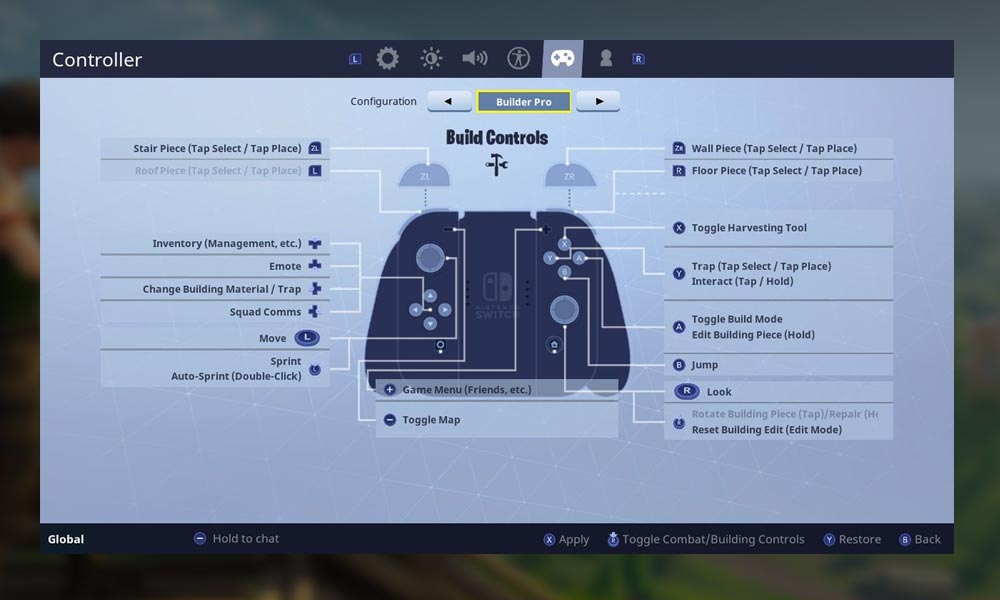 The Combat Pro: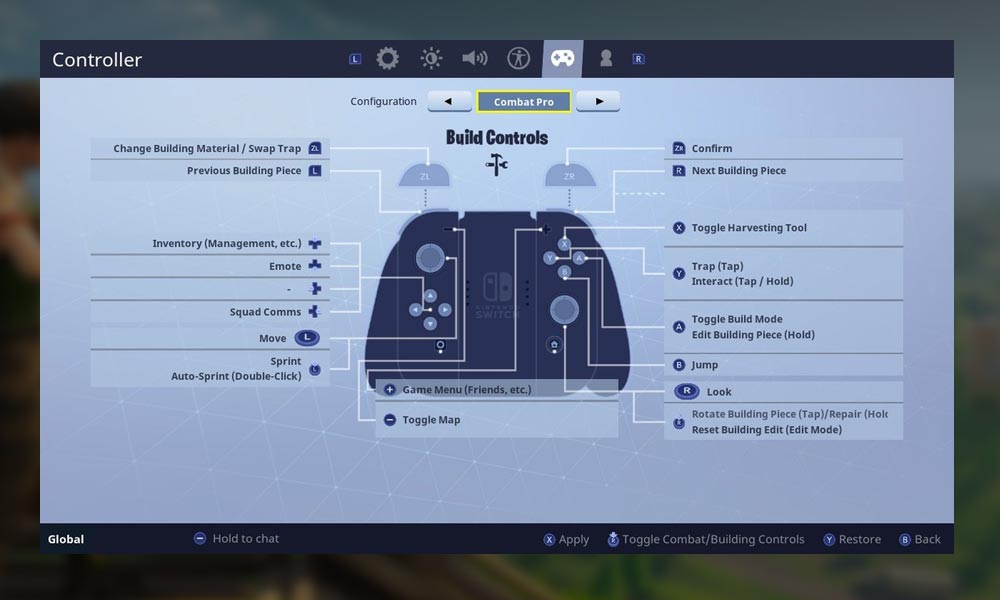 7. How Crossplay works with friends and your Nintendo Switch Fortnite Account
Fortnite has the crossplay feature that means you can play live vs players on other devices like the pc, mobile phones and all of the other platforms. To be able to play with friends add them in Fortnite and open a party. Now you can play team squad modes, as a duo, trio or four man team. You can check the crossplay table here, which devices are compatible with each other!