Fortnite is one of the most famous games in the Battle Royale genre right now
but the rise to fame for this game was not easy. There were a few games already in the Battle Royale segment like the
Player's Unknown Battlegrounds
(PUBG) to compete with. It took a lot of hard work by the Epic Games team but in the end, they succeeded in attracting a
large player base
to their game regardless of the competition.
So, how popular is this game?
Let us take a look at some statistics to shed some light on the matter!
To the Moon and Back: The extreme Fortnite Hype in Numbers:
Fortnite was released not too long ago on July 25th, 2017.
Since its release, the game's popularity has skyrocketed:
In only a month, the game was able to attract 1 million players and from then their numbers multiplied several folds.
In the next 4 months, the player base rose from 1 million to 30 million.
This rise was gradual considering what happened later:
By January of 2018, Fortnite had seduced 45 million players. That is a 15 million increase in the player base in just one month!
However, nearing its first anniversary, the game had more than 125 million registered players – an even faster increase.
According to the latest statistics released by Epic Games, more than 200 million players are enjoying Fortnite on their consoles and devices.
Fortnite Growth & Hype Infographic – User Growth 2017-2019 compared to PUBG: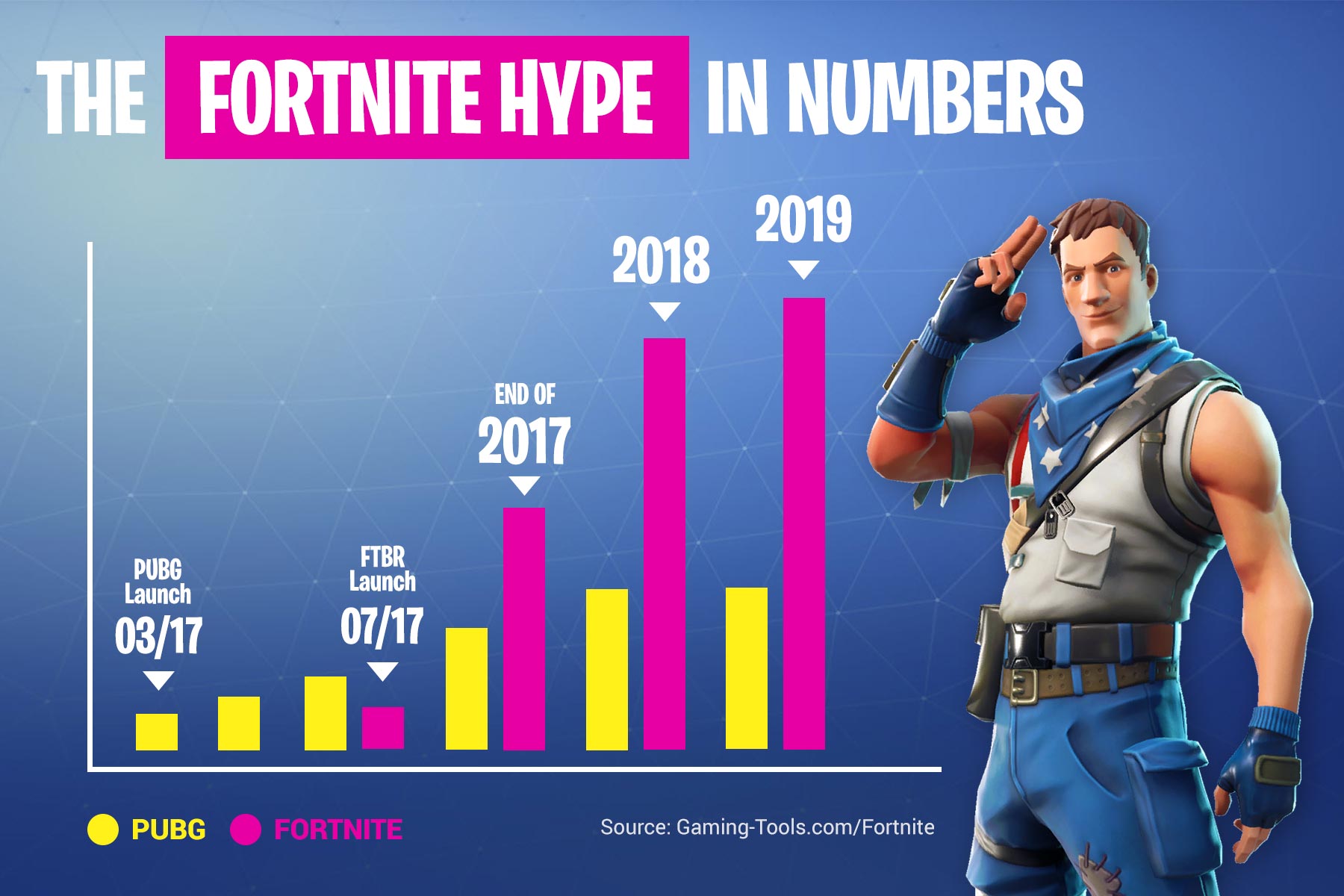 The Battle Royale Competitors PUGB & Danger Zone:
You might think that such an increase in popularity is normal for Battle Royale games given their nature?
Not even close.
If you compare Fortnite with its competitors, you will see that Fortnite not only rose to popularity quicker than any other Battle Royale games but it also enjoyed an abnormal increase in its popularity.
By comparison, PUBG, which was released on March 23, 2017 – the same time as Fortnite – saw a much gradual increase in its player base. Blue Hole had 5 million players playing the game by the time Fortnite was released but by the end of the year 2017, both games had an equal number of registered players. By the start of 2018, Fortnite had overtaken PUBG as the most played BR game in the world.
The CS GO Danger Zone could not compete with Fortnite as well. Even though Counter-Strike was the go-to game for online game players. We could say that the universe inside the games and the story behind each game is different. But the basics of all three games is the same. It is just that Fortnite was able to capitalize their player base a lot better!
Epic games is driving sick revenues with Fortnite Battle Royale:
The game not only earns money for the company but also for the players playing it. For example, a
professional Fortnite player Tfue
has made a
record $465,000 out of the game
. Epic Games itself has seen its pockets deepen. The company is now a
multi-billion-dollar company
in a short amount of time. In one year, Blue Hole was valued at
$8 billion and that increased exponentially to take the company's valuation to $15 billion in just 3 months
.
Fortnite Player statistics: The sick numbers:
The amount of money Fortnite is surprising because the majority of the players are below 25. At such ages, children are not earning themselves. According to statistics, 62.7% of the players belong to the 18-25 age group and 22.5% players belong to the 25-34 age group. Not surprisingly, 72.4% of players are male and the rest are female. It seems boys have more interest in shooting games than girls. If you compare the top two Battle Royale games, statistics show that 35% of people solely play Fortnite while 25% play only PUBG. The rest play both Fortnite and PUBG.


How Fortnite steals all the attention from other Battle Royale games?
The answer is that Epic Games has always been listening to the requests of players. The company has made adjustments to the game and made it enjoyable for players!
Furthermore, they have a solid story supporting their universe which sits well with players as they feel they are part of something big.
The colorful universe and the unique dance moves are an extra bonus.
PUBG, on the other hand, is too slow with its updates. The Blue Hole company is too slow in bringing exciting new stuff to its players, which is why they are not gaining but losing their player base…