Welcome ladies and gentlemen! 😀 lama
In this guide, we will discuss how to customize Fortnite builds. The editing of buildings will help you to make your structures more creative and better in defensive as well as offensive. In addition, I will also provide you with some tips for crafting walls, floors, stairs and roofs. crown
Why you should learn Editing of Buildings in Fortnite?
Editing the buildings in Fortnite helps to organize structures according to your comfort.
If you have read my previous guides about builds you may have read that Epic Games will select the best structures and then place them in Fortnite Battle Royale.
So, if you want to make your Fortnite structures creative and interesting you need to edit them. The more creative imagination you have, the more chances for your structure's selection.
Create Windows To Give You Vision
If you are building a Fortnite three-story building and want to play offensive on each side, then you can edit a wall and create a window on the wall. It will aware you from upcoming enemies and you can play defensive as well. If you are playing with your friends, then each of you can stand on a different floor and create a window!
Create Doors in Fortnite to exit Buildings:
While building a structure you have to keep in mind, that critical situations can occur at any time and you have to run. So, instead of opening your back you can create a door on each floor or one in the middle floor. These doors will block enemies coming from behind. One more interesting thing you can do: Place a trap in the structure and escape through the door.
Step By Step Guide To Edit Buildings in Fortnite:
If you have a good grip in building structures then editing is going to be a piece of cake for you: You can even edit structures in the air. While playing high ground editing of structures matters a lot because you can confuse your enemies! Try to practice editing in Fortnite, so you can even build and edit at the same time during a battle.
Important Knowledge to edit Fortnite Buildings:
Before editing a structure you have to keep in mind that you can only edit a structure which is built by you or your ally. You can not edit a default structure or a structure built by an enemy.
Stand near to the structure and you will be able to edit it if somehow you think you haven't edited it well you can reset it. Just press the reset button. Move close to the structure that you want to edit and the edit button will pop up and later a reset button will pop up as well.
Every structure is divided into some panels so you have to select a panel of the structure that you want to edit. If you want to reset the editing, select the panel again. Keep in mind that sometimes it's not able to reset panels if they turn red.
Tips To Build Fortnite Building Patterns:
Now let's proceed with the Fornite building patterns for walls, floors, stairs and roofs!
Fortnite Patterns in Walls:
Build a Door:


Let's start with something easy: To build a door in your structure move near to the structure and press G. Nine panels will rise in front of you. The selected panels will vanish the specific area from the structure. To build a door you have to select two vertical panels, now it's your choice on which side of the building you want to build your door. After editing again press the button "G", this time it will confirm your editing.

Build a Window:


To build a window in your structure you have to select a single panel and your window will be created.

Build Triangular Openings:


This editing of structure can help you a lot during battles because this editing of structure covers you. So, you can easily shoot back. To build this structure, select three panels: two vertical and one horizontal panel.

Build Two Windows:


To confuse the enemies, build two windows or multiple windows in your building. Each window contains one panel, so windows are not that hard to build.

Build Your Front.


The front of a structure contains a window and a door. This editing is quite simple, just select two vertical panels for the door and one for the window.

Build an Arch:


If you are playing with many friends and all of them want to enter the structure, then to save time and to confuse the enemies you have to build an Arch. To build an Arch, select four panels, select the panel 5th, 7th,8th, and 9th. The best part when your friends are in is to reset the editing again to revert it back to a wall. 😀
Fortnite Patterns in Floors: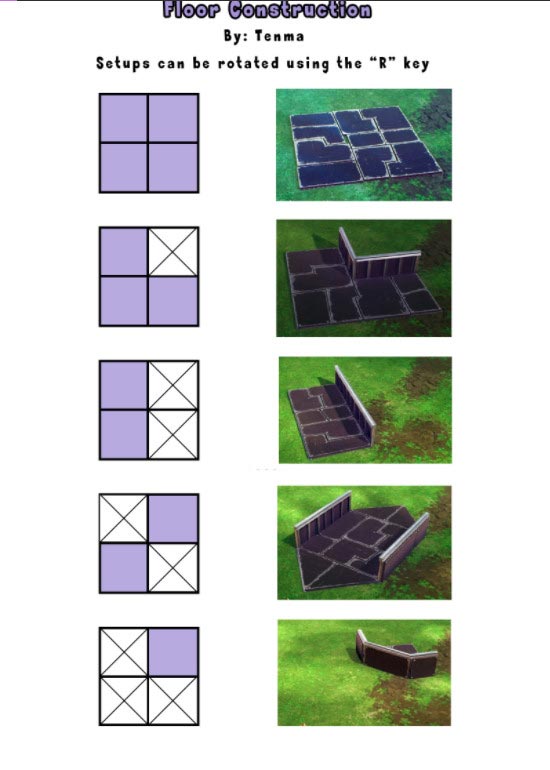 Build One Square:


The floor contains four panels to make a path to the next level of the structure, select one panel. It will create a way for you to go up and down. Helpful in both offensive and defensive.

Build Two Adjacent Squares:


This editing is used to make more space for the players to reach the next level, just select two horizontal panels.

Build Three Squares:


This editing helps in making a nest or cover for the sniper. I's great for high ground playstyles. Just select three panels and leave the last one.
Fortnite Patterns in Stairs:
Change the Direction of the Stairs:


To change the direction of the stairs without changing the form, drag the center tile in the direction of the edit you want to make.

Build House Stairs:


Stairs contain 9 panels with a different shape, to build a normal house stair you just have to select three vertical panels of corner left or right.

Build an L-Shaped Stairs:


These stairs are normally build to change the direction of the stairs. It is very easy to build: Just create an "L" shape on the panels.
Fortnite Patterns in Roofs: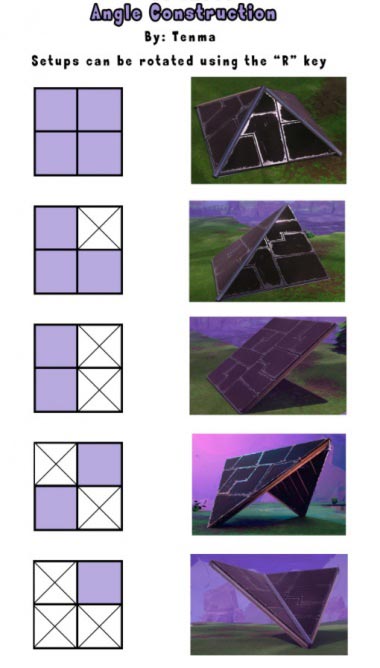 Build One Square Roof:


Roof structures also contain four panels just like the floor. This structure helps in expanding the roofing of a structure, just select one panel from any side.

Build a Two Diagonal Squares:


This structure helps in taking a shelter. It's also helpful for healing and you can exit quickly. To build this structure, select two diagonal panels.
I have only discussed the most common and helpful Fortnite building patterns you can build with the help of editing. There are many more, start with these and never stop learning!