Hello my Warcraft 3 friends!!! 😀
We still love Warcraft 3!!! <3 <3 <3
This is for all the people who need a quick Customkeys.txt!!! 😀
If you want to play Dota and Warcraft 3 on a professional level you dont get around installing your own Custom Hotkeys!
All spells, buildings and commands on QWER!
Experience a higher level of reacting and boost your APM!!! (actions per minute)
Warcraft 3 & Dota Custom Hotkey Download
Download the QWER Customkeys.txt for your language:
[su_table]
| | | |
| --- | --- | --- |
| Customkeys QWER (English) | 309,432 Downloads | Download |
| Customkeys QWER (German) | 185,240 Downloads | Download |
| Customkeys QWER (French) | 109,312 Downloads | Download |
[/su_table]
Compatibility for: Warcraft 3 & Dota (last update 09/2017) – If you find any bugs please tell us – created & improved by wtvr. 🙂
What are Customkeys for WC3?
Custom Hotkeys for Warcraft 3 allow to bind any command on a key (keyboard or mouse). These commands can be abilities, spells but also items. Playing with hotkeys improves the gameplay extremely because you can act faster and do different things in a short time! Learning to play with Hotkeys turn dota players into beastly killing-machines! 😎 😀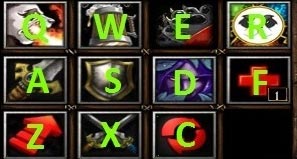 This means that whatever which hero or building in Dota you want to control via your hotkeys, Q is for the first spell, W for the second ..and so on. The key R is always for your ultimate spell!
How to install Warcraft 3 Customkeys? (Tutorial)
Step 1: Download the QWER Customkeys to your computer.
Step 2: Open your Warcraft 3 folder (There is a 'Customkeys-sample.txt' file that you can delete if you want, because you have your own keys soon and dont need a sample any more ;))
Step 3: Put the 'Customkeys.txt' (that you just downloaded) and put/replace it into the main folder of Warcraft 3 (in the same folder where your Warcraft 3 The Frozen Throne.exe file is located). Be sure that name of the file is exactly 'Customkeys.txt'
Step 4: Start/restart Warcraft 3 TFT now, and browse the options. Go to the gameplay settings and make sure the option 'use my own Customkeys' is checked!
Why are QWER Customkeys the most popular ones?
Decide yourself which keys are the best for you! 🙂
But…the most people use the QWER combination, it has many benefits: It is possible to reach a lot of different keys on the keyboard without moving the hand at all! This is important, because the actions have to be fast & blind! Moreover the keys 1,2,3,4 and so on are in a perfect place.
In Warcraft 3 I always save my army into groups (just an example) 😉
1 = Main Hero
2 = Main / melee army and second hero
3 = Ranged army / casters
4 = Siege units or air units
5 = tanks & stuff
In Dota its simple:
1 = Main Hero
2 = Summons
---
That's it!!! 😀
Now you should test it directly in a game, and start learning to do everything with Hotkeys! 😀
Enjoy!! 😉