Top 10 gaming tools & pro equipment for gamers:
Gaming Equipment for your Skill Games:
The gaming equipment is the essential toolset for every gamer:
It's clear that the quality of the gaming mouse, keyboard and headset can change a lot and improves the skill capacity in online games!
Which tools are perfect for your game style?
Why Gaming Tools are important for Online Gamers?
Just winning the game is getting the number one mission for online gamers, especially when playing mobas, shooters and strategy games with the goal to eliminate and bring down the enemy players!
How many hours the Average Online Gamer spends Playing?
The typical online gamer spends about 6-8 hours a week playing games, that are 24-32 hours each month, 288-384 hours every year, and that are only the playing hours, the time when we surf, chill, youtube and relax comes on top!
Average playtime of online gamers:
| | |
| --- | --- |
| Age | Hours |
| 18-25 | 7-8 |
| 26-35 | 6-8 |
| 36-45 | 6-7 |
| 46-60 | 5-6 |
| 60+ | 5 |
| Average | 6-7 |
Gaming is a hobby that consumes hours and hours and that are just the average numbers, speaking for me I sometimes played 6 hours a day! 😉
But I can't do that anymore because I have a job & a girlfriend – I reached the average value meanwhile. 😉
Is Gaming a low priced hobby compared to other hobbies?
While this hobby consumes a lot of time, it's super cheap, what do we have to pay?
Just the bills for power and internet!
Going to the cinema or playing tennis is much more expensive! Because of that if you decide to get great gaming tools, it's just the right call, the gaming mouse, keyboard and headset are used by you every day and should fit the standards and underline your skill and possibilities when playing online games successfully!

Choose who you are: The Noob or the Pro player!
It's about who you want to be! 😉
The idiot or the pro? 😆
You can either be the guy who invests nothing and maybe gets less out, or you can invest in a great foundation and create the base for your online gaming career!
The gaming setup and hardware devices determine a lot! If you gather awesome game tools you will automatically think you are a better player, now it's your turn to master the settings, use the perfect dpi and to get 100% control over your favorite game. Getting control leads to power, calmness and the ultimate skill when it comes into the deciding part of a match!
Every Online Gamer needs the Perfect Gaming Chair!
The Gaming Seat is the ultimate element in the gamer's room! They are not low priced, but once you have invested in one, you can profit from it for a long time! Read our list below why it is just awesome to buy a cozy gaming chair!
The most comfortable Gaming Chairs in the world:
Here is our top 3 of the most comfortable gaming seats:
1. The GTPLAYER Racing Gaming Seat is our favorite chair: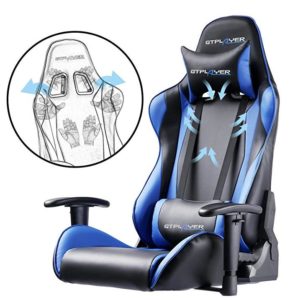 This is the top gaming seat from GTPLAYER, covered in blue and black colors, super soft and super comfortable. More and more pro players and streamers choose this game chair and are proud to show it!
Check Lowest Price
2. The Gaming Chair Racer DX 1 is the most popular gaming chair: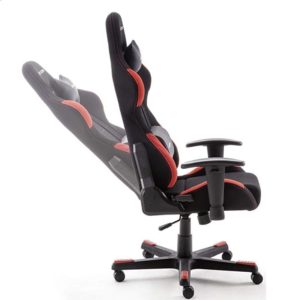 This red and black gaming chair is called Robas Lund DX Racer 1 and is the most sold game chair ever! Thousands of people own this seat and if you want to get a gaming seat, it's all about comparing chairs to the DX Racer 1. Many many pro gamers and streamers are convinced that this is the best chair for any gamer!
Check Lowest Price
3. Stylish Dark Grey Racing Chair Topsky
Topsky has created an awesome luxurious racing gaming chair with black, grey and white leather and pillows. This one looks super expensive and is soft like sitting on a cloud. 😉
Check Lowest Price
Why having a Gaming Chair is worth for any Gamer?
We asked Gamers who own a Gaming Chair and created a list!
(Don't take it too serious 😉 )
Gamers with a Gaming Chair are able to show their luxurious and flourishing lifestyle!
Gamers with a Gaming Chair a better humans. 😀
Ergonomic seats are proven to support you with your posture.
Spending so many hours in front of the computer has to be great, only the best is right for you.
A noble gaming seat will make your friends jealous!
Will it improve your skill? No. Will it change your life? Yes!
The best Gaming Tools, Mouse and Keyboard for online strategy games:
So, what is important if my main focus is to win online strategy games?
For this let us talk about the things you do in the games: In strategy games, you focus on micro and macro combinations, it is often a big list of different keys that have to work well together on the mouse and on the keyboard.
Compared to other online games, in strategy games, you need an above-average amount of custom keys. This requires a setup that allows a flexible and fast key positioning! The most played online strategy games are Starcraft 2, Warcraft 3 Reforged, Endless Space, Total War, and Civilisation.
The best hardware and game tools for Warcraft 3 Reforged and Starcraft 2:
If you are a WC3 or SC2 player what are the things you need?Essential are a gaming mouse that allows superfast APM (actions per minute) as well as a fast translating keyboard. The time between hitting a key on the keyboard and the actual happening has to be kept low, to allow the perfect gaming experience and to make the most out of each match. The Razer Deathadder and the Logitech G213 keyboard are definitely awesome for these.
Top Gaming Equipment for MOBA Games:
What does MOBA mean?MOBA is the short term for Multiplayer Online Battle Arena and the most played games in this genre are League of Legends, Heroes of the Storm, Dota 2, as well as the good old Warcraft 3 Dota 1.
In these type of games, the main key to victory is being fast when it comes to ability and movement usage of your hero. For this kind of condition you need a well-working gaming device combination, the mouse and keyboard have to fit to allow the maximum output for the perfect gaming experience!
Dota 2 best Game Tools & Surroundings:
In Dota 2 you need many keys for the items! Did you know that you can have up to 5 keys that you need for spells and up to 7 keys for your item slots? This is even without the chat wheel and communication keys. Essential is a mouse with enough keys and a high-quality keyboard to stomp your enemies!

Which Gaming Tools are perfect for a League of Legends player?
In League of Legends (lol) super laser fast reactions are crucial to be able to keep up with the fast scene. The mouse and the keyboard should have an acceptable quality so choose wisely! 😉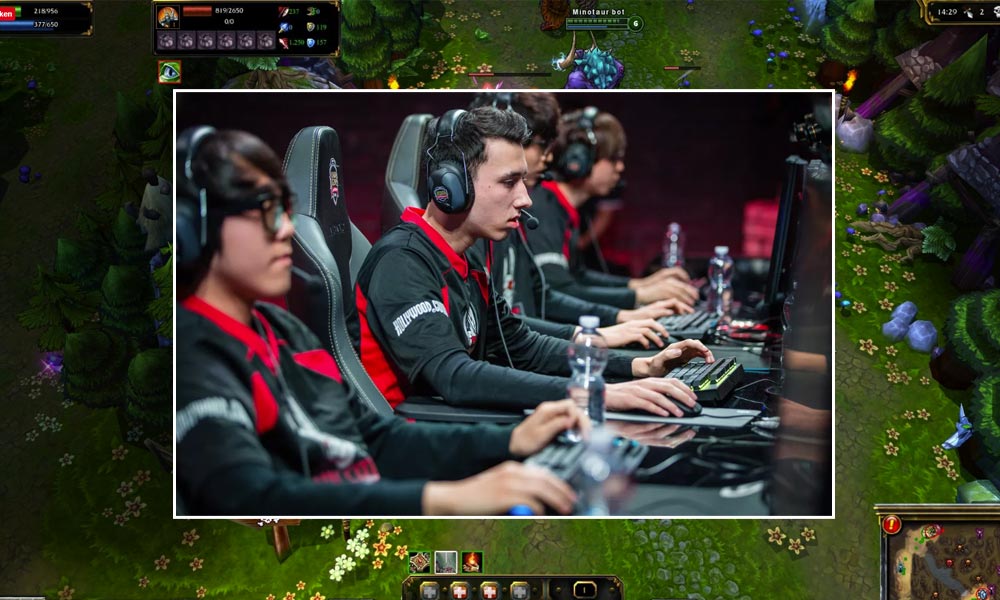 Gaming Tools for Online FPS Shooter Games:
In shooter games three more things are important to put an eye onto:
The monitor delay and FPS possibilites.
The performance of your gaming pc.
The headset and sound quality with 7.1 surround sound.
Top gaming hardware, mouse and headset for Counterstrike Global Offensive:
Do you still love CS GO? Then you know it's all about being fast and being confident in how you move the cursor. Counterstrike is based on reflexes a lot, and these reflexes can only be converted into save shots if you exactly know how the mouse feedback behaves! Choose a super high DPI mouse, a fast keyboard and a high-quality headset for crystal clear sound!
Fortnite and Apex Legends Gaming Accessories Setup and Devices:
In these kind of games, not the fastest reactions win the game, but the best decision makers, when it comes to doing the right thing at the right time!
To support this kind of skill with the perfect gaming devices, choose stuff that gives you the possibility to react fast but has enough potential to reach all keys within time, for example, a gaming mouse with at least 6 keys is essential for building walls and floors in Fortnite and to use your spells or movement abilities in Apex Legends!
Fortnite Player Ninjas's Gaming Equipment List: