Deadfire
2000 V-Bucks

Legendary

"This town ain't big enough…"

The Deadfire Skin can be bought for 2000 V-Bucks. You can also get him as a reward at Halloween Events.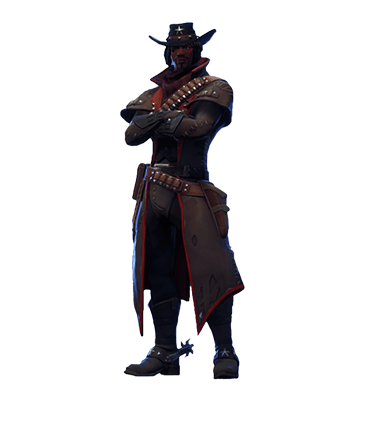 Quick Links:
More Fortnite Skins:
Fortnite Skin Deadfire
The Deadfire Skin is the top Fortnitemares Outfit, it is legendary and costs vcoin 2000 V-Bucks. The costume is one of the reactive Fortnite Skins, if you do more damage to the enemies it will change its appear from basic to purple! Supercool! The Cowboy becomes an undead ghost Cowboy!
Deadfire Set
The Deadfire Outfit is part of the Western Wilds Set, which includes seven cosmetic items. It also contains the Crossfire Glider, the Spectral Essence Contrails, the Calamity Outfit, the Shackled Stone Backpack the Covered Crusader Glider and the Dark Shard Pickaxe!
Deadfire Outfit Design
The Deadfire Outfit for Fortnite Battle Royale is wearing a leather Cowboy costume with leather gloves, pants and ammunition over his shoulder. The Skin is really cool and the reactive style looks just awesome like a dead Cowboy ghost!
Deadfire PNGs and Icons
Gallery and Wallpaper
Deadfire Fortnite Wallpaper Download:

Gameplay Video
View all Fortnite Skins