Hi to all Dota RGC players! Here you can Download RGC Warkeys!
What is RGC Warkeys?
The Dota utility tool called RGC Warkeys allows to setup custom Hotkeys for the Dota RGC Maps. RGC stands for Ranked Gaming Client, a competitive Warcraft 3 Dota League.
You can find all RGC Dota Maps here.
With RGC Warkeys you can define all Customkeys to QWER and even setup Item Hotkeys and quickchat functions!
| | |
| --- | --- |
| Warcraft 3 Tool Name: | RGC Warkeys |
| Language: | English |
| Release Date: | 2017 |
| Map Size: | 1.4 MB |
| Downloads: | 271,750 |
Download
RGC Warkeys is based on the Auct Hotkeys Tool, but it is even better! It has all functions in one program.
The tool Dota RGC Warkeys is super simple to use and everything you need as a Dota RGC player!
Here is the RGC Warkeys Download:
Download
RGC Warkeys Features:
Escpecially designed to work with the Dota RGC Maps! RGC Warkeys supports all Dota RGC 6.88 versions & Dota RGC 6.85k.

(The Hotkeys also work on other platforms, but try it out before.)

Create Dota Hero/Spell/Shop Hotkeys (very simple).
Create Dota item inventory Hotkeys!
Extra configuration for Invoker and Rubick.
Works with the Warcraft 3 Patch 1.26a and all newer ones (1.27a, 1.27b, 1.28, 1.29).
You can create multiple profiles to save different Customkeys and switch between them.
Setup quick chat messages, if you need some commands very often! 8)
RGC Warkeys Installation:
To get the RGC Warkeys rdy, follow these steps:
Step 1: Download RGC Warkeys, unzip and open the file.
Step 2: On the first screen you can edit the Dota inventory item hotkeys.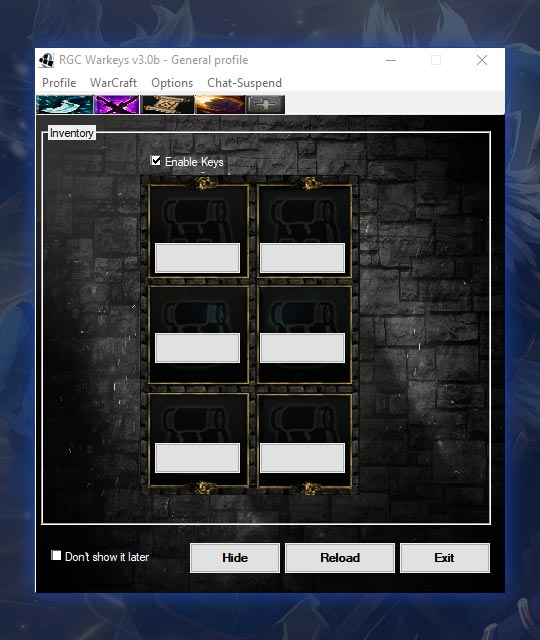 Step 3: Here you can edit all Dota hero spells:

Step 4: Setup special keys for Invoker and Rubick, if you play them:

Step 5: Setup extra keys for nice commands.

That's it! 8)
Dota RGC Warkeys tips
You can create your individual custom Hotkeys for Dota RGC.
In my opinion it is by far the best configuration to put the spells on the keys QWER, on 1 your hero, and the items on 2,3,4,5,6,7.


Any questions?
Have fun playing Dota RGC! bizeps