The Dota Replay Manager is a free tool for browsing Warcraft III replays. It is always updated to the newest version and got nice and powerful features!
Dota Replay Manager Download for Warcraft 3:
Just download and unzip the file then start the Dota Replay Manager.
There is no Installation need. The
Dota Replay Manager
shows you
extensive player statistics
and enables a
replay search
.
Get your Dota Replay Manager Download v3.02c now:
Download Downloads: 22,280Download-Size: 10.0 MB
Dota Replay Manager Features:
Displays a list of all replays with statistics
Extended game information and lists of players with score, lane and item build
Hero builds, skill and item order
Displays game Information (Date, Patch, Map, Game Name, Host, Saver, Length, Players, Score, Winners and Observers)
Shows the APM (including different action types, group hotkeys and more)
Gold and Experience timeline graphs
Full action log with graphical information
Shows hero pool and bans of the mode (cd/cm)
Presentation Tab (format the replay info in plain text mode, forum BB codes or HTML)
Viewing replays directly from internet (if a URL is supplied)
Auto-copying new replays (from LastReplay.w3g to the archive)
And a lot more…

Dota Replay Manager Screenshots:
The Dota Replay Manager has been created by d07.RiV. He is developing the tool and made it to the most powerful parser for Warcraft 3.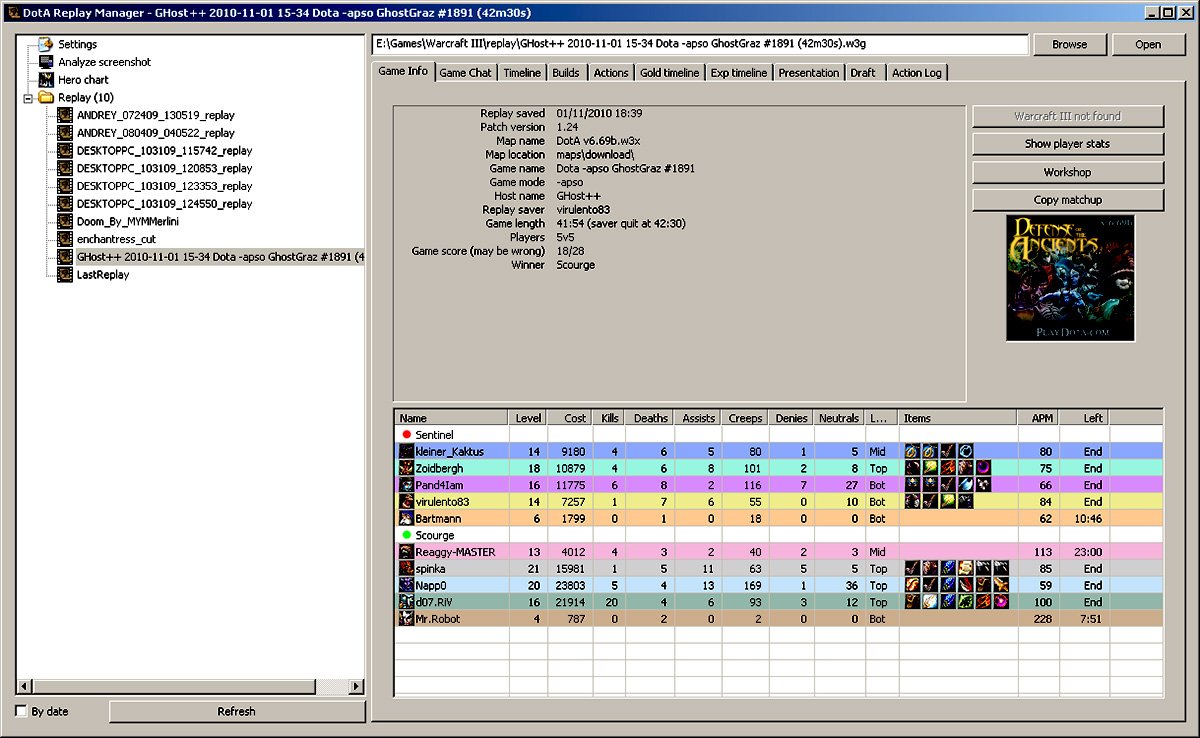 Have Fun! 🙂