Star-Spangled Ranger
800 V-Bucks

Uncommon

"Make 'em see stars." US Independence Day Skin.

The Star Spangled Ranger Outfit can be bought for 800 V-Bucks in the Cash Item Store.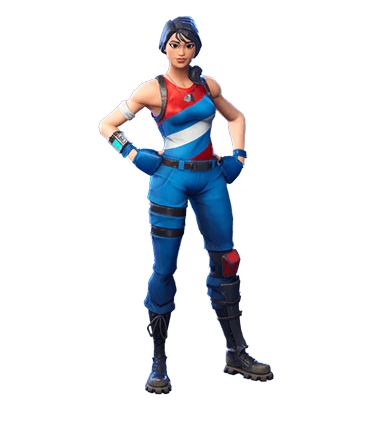 Quick Links:
More Fortnite Skins:
Fortnite Skin Star-Spangled Ranger
The Fortnite Battle Royale Skin Star-Spangled Ranger is an uncommon female Outfit that you can equip ingame.
Star-Spangled Ranger Set
The Star-Spangled Ranger Skin is part of the Stars and Stripes Set which contains a four cosmetic items. The items are the male Star-Spangled Trooper Skin, the Fireworks Team Leader Outfit and the Blasting Cap Backpack.
Find all items in the Fornite Cash Shop.
Star-Spangled Ranger Outfit Design
The Star-Spangled Ranger is wearing a tank top with red, blue and white stripes! The colors represent the US flag. She is also wearing a name tag, black boots and blue pants. The design perfect to celebrate the 4th of July (US Independence Day).
Star-Spangled Ranger PNGs and Icons
Gallery and Wallpaper
Gameplay Video
View all Fortnite Skins