Scorpion
800 V-Bucks

Uncommon

Beware the stinger! Scorpion is a female desert combat skin for Fortnite Battle Royale.

The uncommon Scorpion Skin can be purchased in the Cash Shop for 800 V-Bucks.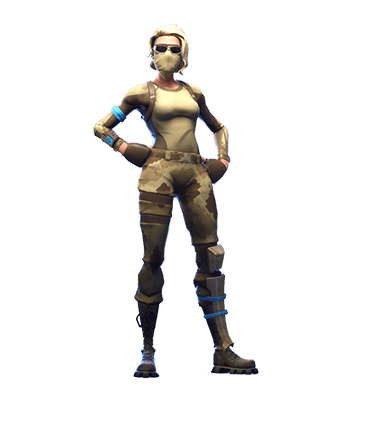 Quick Links:
More Fortnite Skins:
Fortnite Skin Scorpion
Rarity

Ohhhh yes! This girl is ready for fighting! The rarity of the Scorpion Skin is uncommon, the price for this rarity tier is 800 V-Bucks!

Female Skin

The Fortnite Skin Scorpion is a female outfit that you can equip as a cosmetical item.
Set of Scorpion
Scorpion is not part of any Set.
Fortnite Battle Royale Scorpion Design
The Scorpion girl has a sunglass, a bandana a blue band at the arm, and beige clothes. Scorpion is a blond short haired girl that loves the desert! Scorpion belongs to the male desert outfit Armadillo.

Scorpion PNGs and Icons
Transparent High Quality PNGs and Icons:

Scorpion Outfit Gallery & Wallpaper
Nice images for the Scorpion Outfit in high resolution:

Gameplay Video
See the Skin gameplay video:

View all Fortnite Skins