Ravage
2000 V-Bucks

Legendary

"Circling overhead, shrouded by night…" Female Feather Skin.

Get this Skin in the Fortnite Item Shop.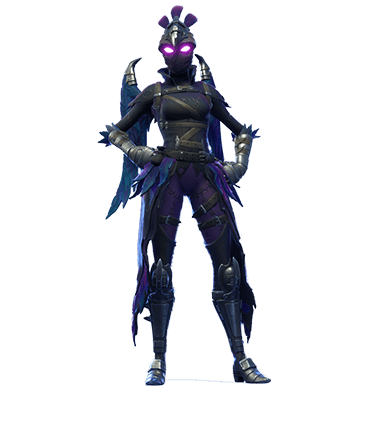 Quick Links:
More Fortnite Skins:
Fortnite Skin Ravage
The Fortnite Skin Ravage is a black female warrior. The legendary Skin came into Fortnite in Seaso 5 and Ravage is wearing a black armor with feathers and purple glowing eyes. It is the female version of the Raven Skin.

Ravage Set
The Fortnite Outfit Ravage is part of the Nevermore Set, which also contains the Dark Wings Backpack, the Dark Feathers Contrails, the Raven Skin, the Iron Cage Backpack, the Feathered Flyer Glider and the Iron Beak Pickaxe.
Ravage Outfit PNGs and Icons
Fortnite Ravage PNG Download:

Gallery and Wallpaper
Gameplay Video
View all Fortnite Skins