Welcome ladies and gentlemen, this is a guide about the Fortnite Shop rotation, showing everything you need to know when you are spending money for vcoin V-Bucks!
1. What is the Fortnite Shop and what can I buy?
Let's start:
This guide is going to be a piece of game for you. You may have seen that famous games like
Dota 2, League of Legends
and many more have a shop feature from where you can
buy cosmetics for your heroes
.
It is the same thing in Fortnite, you can buy cosmetics for your heroes as well as
skins for your weapons
and many more. If you are thinking that Fortnite is giving these things for free then you are wrong. ;( ;(  Because every hero cosmetic and weapon skin has a price. In the Fornite world, you have vcoin
V-bucks as the currency
. You can buy this currency with the help of your credit card.
2. The Fortnite Shop V-Bucks Pricing
Here are the average prices of Fortnite V-Bucks. They can change over time: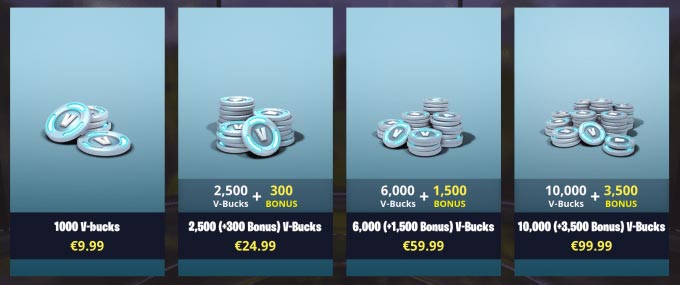 1.000 V-bucks: $9.99 USD
2.500 V-bucks (+300 Bonus): $24.99 USD
6.000 V-bucks (+1.500 Bonus): $59.99 USD
10.000 V-bucks (+3.500 Bonus): $99.99 USD
3. Where can I find the Fortnite Shop and what do I need to know about the Shop Rotation?
When you will see the display of the game there would be multiple options above your character, the middle option will be the Fortnite Item Shop. You just have to click on that option and the shop will appear.
Now, you will be able to see two options in the item shop, first, one will be Featured items and second one daily item. The Fortnite Shop rotates frequently that means most of the items changes daily ( Some of them are later saved in the Store). So, you only have a day or more to buy those items, maybe in the future you will be able to see those items again, but you will never now when.
4. What can I get in the Fortnite Shop and how do I buy something?
The only things required to buy an item is V-bucks, if you have the vcoin
Fortnite V-Bucks
you can buy anything from the item store like
Battle Pass tiers
, V-Bucks,
Fortnite Skins
,
Backpacks
and many more
Fortnite aesthetical cosmetics
! See all of the Items in our
Fortnite Item Overview
. But you have to keep one thing in mind that some items have a
battle pass level limit
. Only if you have the required level you can buy that item.
Just click on the item, if you have the required money then you can buy it. On the Screenshot you can see how it looks like if you want to purchase a Fortnite Shop Item:
Now just click on the purchase button and then the item is in your locker.
5. How can I equip Cosmetic Shop Items in Fortnite?
When you have bought an item, just go to the locker option. In your Fortnite locker, you will find all your cosmetics, weapon skins, gliders etc. From there you can easily select the one you want to equip, just click on it and it will automatically equip the item.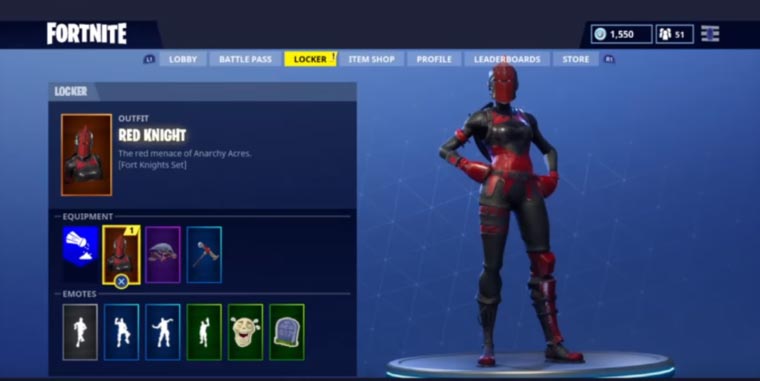 6. To make things clear: Fortnite Items do not make you stronger!
I have heard many Fortnite beginners saying, that if they don't have skins or cosmetics, then they won't be able to play well. These are just lame excuses – Fornite Shop Items are just to change the look. It has no concern with your skills. If you have good skill than these items does not matter.
7. Collection of Fortnite Shop Infos & Tips:
All the items you are going to buy from the shop are just for fun. They are not going to give you an advantage in the game.
Shop Rotates frequently so all the items will not be available all the item.
Check the Fortnite Shop daily for new items.
Sometimes the shop offers some discount on items. So, if you want to buy an item then do not miss those offers.
The shop not only offers items but you can also buy Battle Pass tiers.
If you are not that much rich to buy V-bucks then go for the Battle pass and earn rewards from there. Some tier contains cosmetics and skins.
The shop also provides bundle offers. In this offer, you can buy multiple items in a bundle for less money.
Let me show you some cosmetics and skins in the shop below.
8. Fortnite Cosmetic Shop Item List:
In our Fortnite Shop you can find all of the items that you can buy in the Shop Rotation. Here is a short collection of random Skins, Backpacks and other Items.
Click on the shop page below, to sort them by the uncommon, rare, epic and legendary rarity.

View all Fortnite Shop Items